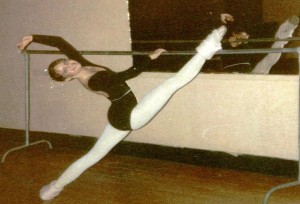 As a teenager I spent four, sometimes five, nights a week in the basement of an old bank, a large low-ceilinged room that had once—a yellowed sign told us—served as a bomb shelter. The ballet mistress would call out, "A little more sweat, if you please," and at the barre, we would plié more deeply, arch our backs more fully. Sometimes we would have a moment's rest, and I would roll stiffness from my shoulders, gazing at one of the Edgar Degas prints tacked to the walls. I felt kinship with his ballet girls, sometimes glorious on the stage but often as not scratching their backs or limbering at the barre. I saw their heaving ribs, their exhaustion, their thighs trained to roll outward from the hip. I saw their love of dance, too—no different from my own—their commitment to perhaps the most gruelling art form in the world. No wonder, then, that decades later a documentary on Degas's most famous sculpture, Little Dancer Aged Fourteen, should so fully captivate me.
Marie van Goethem, I would learn, modelled for the work and lived on the lower slopes of Montmartre a few blocks from Degas's studio. Her father, a tailor, was dead, and her mother was a laundress. She trained at the Paris Opéra dance school and was later promoted to the corps de ballet. It was the dream of many a Parisian laundress or sewing maid. The ballet offered a chance for a daughter to escape the gutter, to find fame and fortune if she had talent and ambition, if she was able to attract the attentions of a wealthy admirer.
Along with their own private boxes at the Paris Opéra, male season's ticket holders had purchased entrance to the Foyer de Dance, a space built to encourage encounters with the young ballet girls. It was a sort of gentleman's club, a place where highlife met lowlife, where mistresses were sought by industrialists and noblemen with clout enough to advance a girl's career.
When Degas unveiled Little Dancer Aged Fourteen in 1881, it was to reveal something very curious—a highly realistic wax sculpture of a ballet girl. At once the public linked her with a life of corruption and young girls for sale. She was called a "flower of precocious depravity." Her face, they said, was "imprinted with the detestable promise of every vice."
This seedier side of the Paris Opéra flew in the face of my teenage notions of the ballet girls tacked to the walls. The lives of those girls and more specifically the life of Marie Van Goethem differed from my own in startling ways. Hers was a story I wanted to tell.